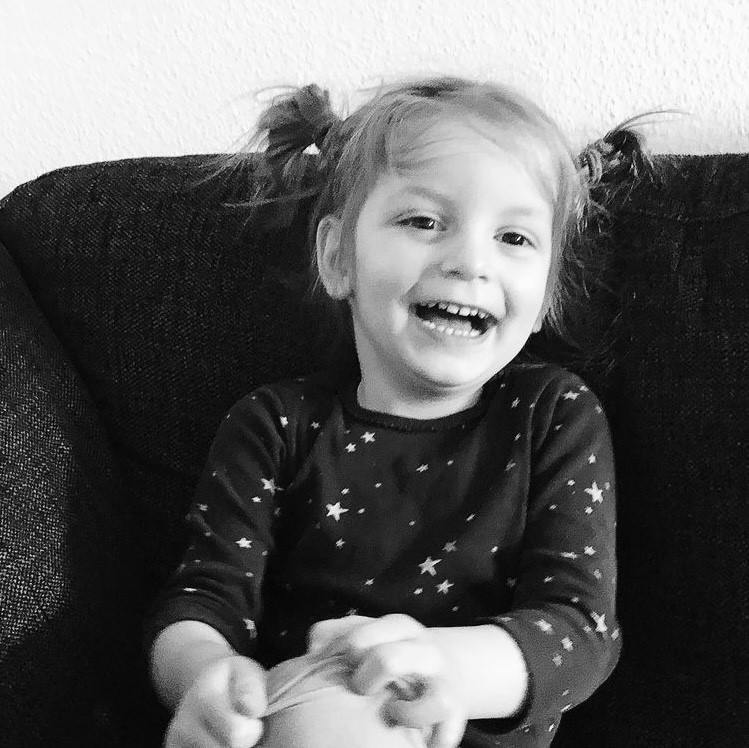 ENGLISH
Hi everyone,
We'd like to introduce our girl Alia, who is 4 1/2 years old. She was born in February 2017, 10 days before her due date. During the pregnancy, Alia didn't grow as much as expected and weighed only 2.612 kg at birth.
Alia cried frequently during the first six months, which the doctor put down to colic.
From birth she had strange leg movements and we could see she was different from other babies.
When Alia was 1 year old, her development stopped. It was very difficult to communicate with her, she didn't play with other children, she lived in her own world, she developed selective eating habits, and she sensed everything with her mouth. Alia only learned to walk when she was 2 years old, she only made a few noises and couldn't talk. In November 2019, Alia was diagnosed with infantile autism and intellectual disability. In August 2020, both Alia and ourselves, her parents, went through genetic testing that revealed that Alia has a mutation in the CLCN4 gene. The mutation arose in Alia herself while she was just in the womb; it wasn't something she genetically inherited from us. The doctors told us that there were only 6 other girls in the world with the exact same mutation and they therefore couldn't tell us much about it.
Alia faces many challenges every day and she is still very difficult to communicate with. She is outgoing but still can't use language. She harms herself and when she is on her feet, she spends 95% of the time walking on her toes. She has movements that resemble spasms and other major motor challenges, and she cannot walk very far until her legs physically cannot carry on. She has pica, which means she eats absolutely everything, even if it is not edible. During kindergarten she eats a lot of sand, which causes stomach problems.
We cannot demand anything from Alia. She needs a very structured and predictable everyday life, with everything preferably done her way. She often vomits when she sees or smells food she doesn't like. She also finds being out in public very challenging, so when she isn't at her special kindergarten, we spend a lot of time with her at home.
Alia is generally a very happy and smiling girl. In the last six months, she has started looking for more contact and likes us to hug and kiss her, but in a slightly rough way. When she's very happy, she waves her arms but when she is sad or very angry she throws up and hits herself in the head or hits and bites us and her siblings.
Alia needs to be aware of her own body and therefore often wears a calming vest which gives her a little more peace. She can only sit still if she is wearing her calming vest, otherwise she's constantly moving and restless.
We are very concerned about Alia's future, as the doctors cannot tell us anything about this syndrome. We hope to meet some other families to share our concerns and joys with.
Alia's condition is still a huge source of grief for us. Our biggest wish is that her contact and communication improve so we can help her and meet her needs in the best possible way.
She is our little ray of sunshine.
Xo xo Alia and her family
DANISH
Hej allesammen.
Vi vil gerne præsentere jer for vores pige Alia som er 4 1/2 år gammel. Alia blev født februar 2017, 10 dage før termin. Alia tog ikke på som hun skulle inde i maven og havde en lille fødselsvægt på 2612 gram. Alia græd det første halve år og lægen sagde det var kolik. Fra hun blev født havde hun aparte ben bevægelser og vi kunne se hun var anderledes end andre babyer.
Da Alia var 1 år gammel stoppede hendes udvikling. Det var meget svært at skabe kontakt, hun legede ikke med andre børn, var i sin egen verden, hun fik selektive spisevaner og hun sansede alt med munden. Alia kunne først gå da hun blev 2 år gammel og har kun få lyde og intet sprog.
I november 2019 fik Alia diagnosen Infantil autisme og mental retardering. I august 2020 går Alia, og vi forældre igennem genetiske test, der viste at Alia har en mutation på clcn4 genet som er opstået i Alia selv, fra dengang hun kun var et æg i maven.
Det er ikke noget hun arvet genetisk fra os. Lægerne fortalte os at der kun var 6 andre piger i verden med præcis denne mutation og kunne derfor ikke fortælle os særligt meget om det.
Alia har mange udfordringer og hun er meget svær at skabe kontakt med. Hun har stadig ikke noget sprog, hun er udadreagerende og selvskadende og går på op på tær 95% af tiden. Hun har spasticitet lignede bevægelser og har store grovmotoriske udfordringer og kan ikke gå særligt langt før hendes ben ikke kan gå mere. Hun har Pica og spiser alt der ikke er spiseligt. I børnehaven spiser hun rigtig meget sand, hvilket giver mave problemer.
Vi kan ikke stille krav til Alia. Hun har brug for en meget struktureret og forudsigelig hverdag og gerne på Alia's måde. Hun kaster ofte op, når hun ser eller lugter mad hun ikke kan lide. Alia har meget svært ved at være ude i offentligtheden og vi er derfor ofte meget hjemme med hende med mindre hun er i sin speciel børnehave.
Alia er generelt en meget glad og smilende pige, hun har det sidste halve år begyndt at søge mere kontant og vil gerne kramme og have vi kysser hende men gerne på en lidt hård måde. Når hun er meget glad så vifter hun med armene og når hun er ked af det eller meget sur så kaster hun op og slår sig selv i hovedet eller slår eller bider os eller hendes søskende.
Alia har brug for at kunne mærke sig selv og går derfor ofte med en kuglevest som giver hende lidt mere ro. Hun kan kun sidde stille hvis hun har kuglevest på, ellers så er hun hele tiden i bevægelse. Vi er meget bekymret for Alia's fremtid da lægerne ikke kan fortælle os noget om dette syndrom og håber vi kan møde nogle familier at dele vores bekymringer og glæder med.
Det er stadig en kæmpe sorg. vores største ønske er at hun bliver bedre i sin kontakt og i sin kommunikation så vi kan hjælpe hende og imødekomme hendes behov bedst muligt.
Hun er vores lille solstråle.
Xo xo Alia and her family
If you would like to support Alia and other children with CLCN4, please consider making a donation to Cure CLCN4.